Tell Us Your Story!
If you're a previous Bloomfield Educational Foundation scholarship winner, please let us know how you are furthering your education or career.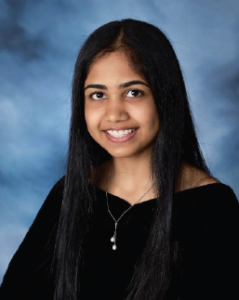 Haley Patel '19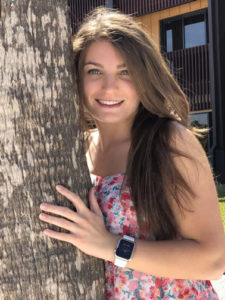 Alexandria Russomanno '14
Haley is the 2019 recipient of The Matthew Melucci Scholarship and The Dorothy Jewkes Straight and Leroy Straight Scholarship.
Haley's brilliant smile and willingness to share the spotlight with others are the first two things that you notice about her. Her accomplishments are numerous and she is quick to tell you that her successes have been because she was able to work with those who share her enthusiasm for academics and community service. And anything she does, she does to the fullest extent. Case in point, not only is she a member of the Key Club, but a member with Distinction, logging in over 20 hours annually as a volunteer. She is VP of
The National Honor Society and a Student Council member. Chosen for the Senior Leadership Program, Haley was one of 30 selected, out of 75 applicants. The Senior Leadership Program students go into the freshmen classes and talk to the students about getting involved and the importance of trust, kindness and communication. Does this make a difference to a freshman student? Yes, Haley heard from a freshman who said it made all the difference in the world to have a senior there and ready to help out and solve problems.
The Leadership students also travel to Shop-Rite and set up tables to tell elementary students about good nutrition and how to create a personal nutrition plan. When Haley isn't in class (in addition to her regular classes she is taking AP Computer Science, AP BC Calculus, AP Literature and Composition and AP Language and Composition) she volunteers at Second Home in Passaic. There she works with the senior citizens and helps with clerical duties in four-hour intervals. She enjoys hearing the seniors' stories of when they were young and likes helping them to feel cheerful and optimistic.
Haley said the SAT Prep classes were very helpful and she feels she did better on the test because of them. Her AP Statistics class broadened her horizons and helped her realize a career path that she wouldn't have discovered had she not taken the class. She has done well enough in her Junior AP classes to earn college credits and hopes to do the same this year. She has been accepted to Rutgers and Temple and is wait-listed for Northeastern. She also applied to NYU, Stevens Tech., Drexel, Lafayette, and Cornell. Haley has an older sister in college who also benefitted from the SAT Prep and AP Test programs. Her Dad is a recruitment manager and Mom is an RN.
Alexandria Russomanno '14
2014 BEF Leroy Straight and Dorothy Jewkes Straight Scholarship Recipient
Alexandria began her post high school educational career at Rutgers University, where she enrolled in the Rutgers Business School, and majored in Accounting and minored in Human Resource Management.
Alexandria considers herself fortunate to have worked as a Finance Intern at Dun & Bradstreet in the Corporate Controllers Group during the Summer of 2017. She is also very grateful to have been selected as the New Jersey Society of CPA's 2017 Scholarship Award Recipient. Currently she is interning with the Walt Disney Company in Orlando, Florida, and this summer she is looking forward to beginning her journey at PwC, PricewaterhouseCoopers, as an intern on the Assurance team-practicing audit.
Alexandria will graduate Rutgers in May, 2018, with 150 credits and hopes to pass the Certified Public Accounting Exam, become a CPA and begin her career at PwC.
"My BEF scholarship really helped to make my education possible and opened so many doors for me," Alexandria said. "I am so grateful for the BEF scholarship, founded and made possible by BHS graduate, Candace Straight, that I received four years ago."
As a grateful member of the Bloomfield community, one of her favorite things was working as a camp counselor for two-and-a-half years with the Bloomfield Recreation Center during her college career. She states enthusiastically that it helped her to stay connected to her Bloomfield family that she loves so much!