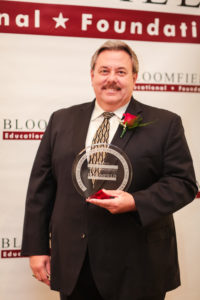 Richard Koscielak graduated from Saint Valentine's School and Bloomfield High School and his parents were lifelong residents of Bloomfield. Rich attended Rutgers University and received a Bachelor of Arts Degree in Accounting. He was the President of the Rutgers Accounting Society, elected by Rutgers to Who's Who Among Students in American Colleges & Universities, and a recipient of the Rutgers Accounting Program and Rutgers Senior Service Commendation Awards.
Rich began his career with Coopers & Lybrand in 1980. He quickly rose to the position of Supervising Senior and in 1982, he received the Outstanding Young Men of America Award. In 1983, Rich began his twenty-eight year career with Hoffmann-La Roche Inc. He held positions of increasing responsibility in: Internal Auditing, Financial Analysis & Budgeting, Corporate Financial Reporting, Business Policy Contracting & Pricing, National Accounts, and Director of Sales Technologies, before Roche relocated to CA in 2010.
Rich just celebrated his seventh anniversary as Executive Director of Commercial Systems, Data & Analytics at Acorda Therapeutics Inc., in Ardsley, NY.
In 1981, Rich married Kathleen Buckla, Class of '76, his high school sweetheart. They have three children; Kristen, Richard and Lauren. Rich designed and built his first home in Nutley, and later built another home in East Hanover, where his family settled. He coached their three children there in Soccer, Basketball and Baseball.
In 1975, Rich joined the Joseph Poniatowski Beneficial Association ("JPBA") trading as The Essex Manor.  He served as Treasurer from 1986-1987. In 1988, he became President. During his twenty-eight years as an Officer, in addition to supervising the operations, he designed and coordinated all the exterior and interior renovations. He recommended a Family Activity Program which included an Annual Dinner Dance, Annual Picnic, Santa Claus and Easter Bunny programs, all of which were held at The Essex Manor. Rich received the JPBA Man of the Year Award. Throughout its rich 115 history, the JPBA prospered under the guidance of very energetic Executive Committees, that made substantial donations to Bloomfield Schools, Churches, Hospitals, Charitable and Civic Organizations. The Essex Manor was home to many Fundraisers for local individuals in need.
In 2009, Rich coordinated a Roche Foundation Grant in the sum of $5,000 to the Bloomfield Educational Foundation ("BEF") for their Science Initiative, which led to future Grants from Roche to the BEF. Rich also helped coordinate the Class of 1975 Thirty-Fifth Reunion at The Essex Manor.  In 2015, The Joseph Poniatowski Beneficial Association (JBPA) agreed to donate $5,000 to the BEF College Scholarship Fund.  In 2016, they donated an additional $15,000 to the BEF College Scholarship Fund.   The BEF Community Organization of the Year Award was bestowed upon Rich for his leadership of this organization and their generosity to support the BEF scholarships, in 2016.
Rich currently sits on three Boards; the Bloomfield Educational Foundation Board, East Hanover Land Use & Planning Board, and the East Hanover Knights of Columbus Board. He is also an active member of the St. Rose of Lima Church in East Hanover and the Rutgers Alumni Association.