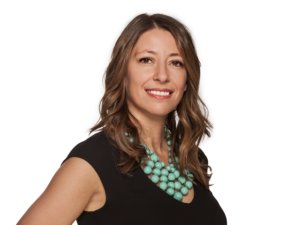 Among her many accomplishments, the Healthcare Businesswomen's Association named Kristen a "Rising Star" in 2009. More recently, she was inducted into the Medical Marketing & Media Hall of Femme and became part of the Med Ad News Brand Team of the Year for her efforts launching 2 drugs to cure Hepatitis C.
Kristen is personally and professionally committed to organizations that sustain the promise of improved health for individuals, families, and the larger community. She is involved in numerous alumni committees and charitable organizations, and is especially proud of her work in Rwanda with Komera, a nonprofit organization dedicated to building self-confident women through education, community, and sport.
While at BHS Kristen played on championships team in 3 sports for the Bengals: soccer, basketball, and softball. She was also a proud recipient of the Theodore Jasieniecki Scholarship – which helped to make her education at Yale a reality, providing an early stepping stone for success. Her parents still attend games in Bloomfield, keeping her updated on the Bengals successes. She had a chance to attend her 20-year high school reunion just in November and says "There are so many impressive graduates of the school; I left the event feeling very inspired by the larger group."
When asked about anything she uses today learned from her time at BHS from being involved in sports to student government Kristen says "There's a common theme in every activity I was part of in high school – learning to work in team environments, and to put the needs of a team or group ahead of a personal agenda."
When discussing favorite teachers from her high school years she claims there was an embarrassment of riches. Miss Zak inspired her love of science; Dr. Ates inspired student government to be leaders within the community; Coaches Mayer, White, and Jenkins taught us important life lessons on and off the playing field.
When pressed with what message would you give a current BHS student? Kristen responds with F. Scott Fitzgerald "I hope you live a life you're proud of." And advises
"that whatever your destination might be – a city far from Bloomfield, a profession different from what you'd expected, a life you haven't imagined just yet – do it in a way that makes you proud. And makes our Bloomfield community proud."