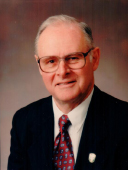 Mr. Barry began his 40-year career as a Lab Technician for General Electric, in Bloomfield, and then held positions as the Assistant Plant Engineer for Maas & Waldstein Co., Newark; Salesman to the Company President for McNeil Construction, Newark, and Township Administrator for the Township of Bloomfield.
Married to the former Patricia Gunther, of Bloomfield, Joseph is the father of eight children, Patricia Corcoran of West Orange, Joseph of Bloomfield, Theodore of Toano, VA, Nancy Carey of Lake Como, PA, Eileen McLaughlin of Hopatcong, Jane Mahoney of Pearl River, NY, Kathleen Toto of Herndon, VA, and Betsy Orellana of Bloomfield.  He has 26 grandchildren and 10 great grandchildren.
Joseph is the NJ State Coordinator for Project Children, a Life Member of the National Society of Professional Engineers, a Trustee of United Way of Bloomfield, The Bloomfield Historical Society, Friends of the Library, and Life Member of the Knights of Columbus.  He is a former Board member of the Essex County Heart Association, and served as the Residential Fund Drive Chair, was on the Board of School Estimate from 1963-1966, the BHS Expansion Committee in 1971, and is a former member of the Oakside Cultural Center.  He also served his community as Councilman-at-Large from 1963-1966 and First Ward Councilman from 1973 through 1989 and was presented with a Distinguished Service Award from the Bloomfield Public Library in 1983 for his recognition of the quality library service and the example he personally set to the townspeople by using the resources of the Library himself, on a regular basis.  He was bestowed with the BEF Alumnus of the Year Award in 2014.