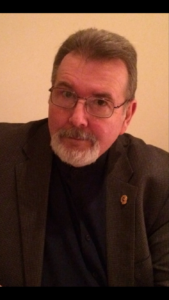 A decorated Vietnam veteran and author, James Wollner, (also known as Parker or Tinker to many of his Bloomfield friends), is a lifelong resident of Bloomfield. He attended Fairview School, South Junior High School and Bloomfield High School and went on to earn a BA degree in political science and history from Bloomfield College.
However, James lived an entire life time during those years between his graduations from high school in 1964 and college in 1971. He began his undergrad studies part-time while working at several Bloomfield establishments including Forest Hill Field Club and the Schering Corp. But the jump to full-time student didn't go as planned; James was drafted into the US Army on his 21st birthday. He served in Vietnam's Mekong Delta from 1967-1968 as an airboat pilot with the 9th Infantry Division. Wounded during his tour, he was awarded the Purple Heart and the Army Commendation Medal with "V" device for heroism. He chronicled his wartime experiences in the book The Bamboo Shoot—The Story of the 2nd Airborne Platoon, published in 2007. The memoir details the range of day- to-day experiences and emotions from non-stop action to monotony and from terror and grief to uplifting camaraderie between brothers helping others who could not help themselves.
Back home, James completed his studies at Bloomfield College in a record two-and-one-half years and served as 1971 Bloomfield College class president. He remains active with his alma mater, having served as president of the alumni association and currently serves on the alumni council. In addition, he has been instrumental in coordinating efforts between the college and the Bloomfield Board of Education to create the Pre-K Early Childhood Learning Center at Forest Glen School, as well as the alternative high school program, Liberty Academy, on the Bloomfield College campus.
James spent his professional life in industrial purchasing and warehouse management before moving into the medical field as Director of Purchasing at Mountainside Hospital in Montclair.  In this venue he was responsible for cost-savings through standardization in products and shared services. He helped to establish, with N.J. Hospital Association, a Group Purchasing Program, saving millions of dollars to N.J. hospitals. He retired as VP of Materials Management from United Hospital Medical Center in Newark after being diagnosed with MS.
With the blessing of his wife, Madeline, James became, in his own words, "the original Mr. Mom," to their two children, Christian BHS '93 and Katherine, BHS '98. Currently, James serves on numerous Bloomfield town boards, commissions and volunteer organizations. He remains very active with fellow Vietnam veterans and has recorded for oral history projects at Texas Tech University and the N.J. State National Guard Museum. He also has participated in the N.J. Vietnam Veterans Memorial education teacher seminars, through poetry readings written by him and fellow Vietnam veterans.   The BEF enthusiastically bestowed upon James, The Alumnus of the Year Award at their annual Gala in 2016.
Following the sudden death, in 2016 of their son Christian, the Wollners decided to contribute toward the support of a BEF Extraordinary Grant project in cooperation with the Bloomfield Recreation Department and the Bloomfield BOE for a Lego Project in two Bloomfield elementary schools as a pilot program, with plans for it to expand to all the elementary schools. They picked this project to support knowing that if it was available when their son was at Brookdale School he would have been the first one in line to sign up for the project.
Jim also established The Christian David Wollner Veterans Award at Bloomfield College for veterans currently enrolled at Bloomfield College. Recalling his own experiences as a returning veteran/student, as well as the benefits both his children received as the children of a disabled veteran, Jim wanted to make a vet's daily life a little bit easier with this award. In his words, "these veterans sacrificed so much for their country, I just want to say Thank you."