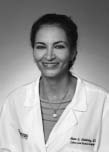 Dr. Abdelnaby attended Bloomfield Middle and Bloomfield High School before heading off to Cornell University. While at Cornell, she earned a BA in economics and international relations, while fulfilling pre-medical course requirements.
Her dream of becoming a surgeon was realized while attending Howard University College of Medicine in Washington, DC. Dr. Abdelnaby completed five years of general surgery residency at Providence Hospital in Washington, DC, and further sub-specialty training at the University of Southern California in Los Angeles.
She is currently a double board-certified colon and rectal surgeon in Dallas, Texas, where she serves on staff at Zale Lipshy University Hospital, Parkland Memorial Hospital, and Clements University Hospital. Dr. Abdelnaby is also an associate professor of surgery at the University of Texas Southwestern Medical Center. In addition to teaching, Dr. Abdelnaby is widely involved with her students, presenting lecture series on "A Resident's Survival Guide," and mentoring students in the areas of surgery and global health.
Dr. Abdelnaby also serves as the program director for The Global Health
Surgical Academic Fellowship in the department of surgery at UT Southwestern Medical Center. Her areas of interest within global health are refugees and addressing the different refugee crises around the world. Her mission, and her passion, is to help develop future surgical leaders in the arena of global health and to put her institution on the global map. Over the past several years, she has spent her vacation time on mission trips to Jordan, Palestine, and the West Bank to provide surgical services to refugees.
In September 2013, Dr. Abdelnaby was featured on ABC Nightline News for humanitarian efforts in a video report titled "Caught in the Crossfire." The story told about the volunteer humanitarian efforts of 29 medical professionals from around the world, armed with 750 pounds of medication, trying to repair the unimaginable injuries to wounded Syrian refugees, mostly children, pouring into a Jordanian Hospital.
In addition to her humanitarian work which has taken her from the Middle East to Haiti and Ethiopia, Dr. Abdelnaby is a member of numerous professional associations including Physicians for Peace, the Society of American Gastrointestinal and Endoscopic Surgery Go Global (SAGES), and the National Arab American Medical Association (NAAMA). The BEF bestowed the Alumna of the Year Award upon her in 2016. She has done extensive research and published articles on diseases related to the intestines, including colorectal cancers and lectures widely on laparoscopic procedures and pelvic floor disorders.
To unwind from her professional passions, Dr. Abdelnaby enjoys exercising, reading, catching up on movies and spending time with her daughter, Leila.