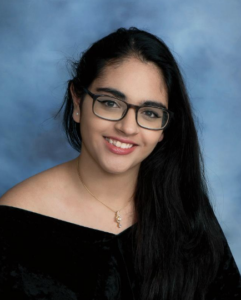 Tulsi received an $18,000 scholarship to attend the University of New Haven where she will major in political science. She attributes her success to the BEF-sponsored SAT prep classes and resulting 1260 SAT score.
AP experience 
Tulsi took 6 AP classes. "To be able to take as many AP classes as I could handle, knowing the exams were paid for by the BEF, gave me the experience to see what I will be doing for the next 4 years," said Tulsi. "The AP classes helped me to realize that I want to explore and gain a deeper understanding of our government. I want to continue to pursue a master's degree in political science and then attend law school and become an attorney."
"The AP classes gave me a new perspective on learning.  They opened my eyes and I found my passion.  I learned so much and got a real sense for what college will be like.  This year I took AP Comprehensive and Government, Statistics and English.  My junior year I took AP Physics and US History 2.  Sophomore year I took US History 1."
"In addition, I greatly benefited from the BEF-sponsored SAT prep classes," said Tulsi.. "These complimentary classes are non- existent in many of my friend's schools. I could take a placement test in a comfortable, familiar environment.  I felt safe and it was a good environment for doing well."
"Without the help from the BEF, I would not be able to take every AP class or test," said Tulsi. "My family could not afford to do that.  I also could not have taken the SAT multiple times.  I felt prepared each time I took it."
"The BEF made my experience so much better and much easier than some of my friends in other schools," continued Tulsi.  "I hear from my friends how they don't have this support and I am proud to talk about our school and the BEF support.
Advice to fellow students
"To students making a decision to take an AP class, I would say that AP seems scary at first but, try it.  It changes how you learn.  Take the SAT prep classes, as they will help to raise your SAT scores.  The teachers here know we have other interests in addition to the academics.  They work will with you," said Tulsi.
Additional interests
Tulsi plays the violin and plans to continue this music interest in college. She has a younger brother who is a sophomore at BHS. Her parents grew up in India where her mother finished high school.